Emergency Response PT Sports Training
Foundation and Competencies – Sports physical therapy course focusing on emergency medical response injuries, illness, and rehabilitation
Course Description
Course Objectives
Course Outline
Upcoming Courses & Dates
The Foundations and Competencies course is physical therapy continuing education course designed to provide the skills necessary to practice in a sports physical therapy setting. Participants will learn emergency management of sports injuries and illnesses as well as rehabilitation of injuries. The EMR course will help physical therapist properly prepare for sports medical emergencies including breathing emergencies, sudden cardiac death, shock, bleeding, and spinal injuries. Participants will also learn how to properly treat general medical conditions, injuries to the face, throat, chest, and abdomen.
Learn Proper Equipment Fitting
It's essential that athletes have proper fitting equipment during sporting events, reducing the chance of injury including concussions. The EMR sports training course will teach participants how to properly fit athletes with equipment as well as proper taping and bracing techniques of the ankle, thumb, and hand.
Rehabilitation of Athletes
Physical therapists in a sports setting are the first line of defense when athletes get injured. Participants of the EMR continuing education course will learn how to rehabilitate sports injuries to athletes and how to properly incorporate the use of pharmaceutical and ergogenic aids. Participants will also be able to properly provide athletes with nutritional and dietary guidelines.
Red Cross Emergency Medical Responder Certified
During the course of the four day EMR training for sports therapy, participants will become Red Cross Emergency Medical Responder certified in CPR, AED, EMS operations, and more. Physical therapists will need to complete the American Red Cross Medical Response textbook and workbook prior to this course. Certification will be complete after the completion of the workbook and testing process.

Register Now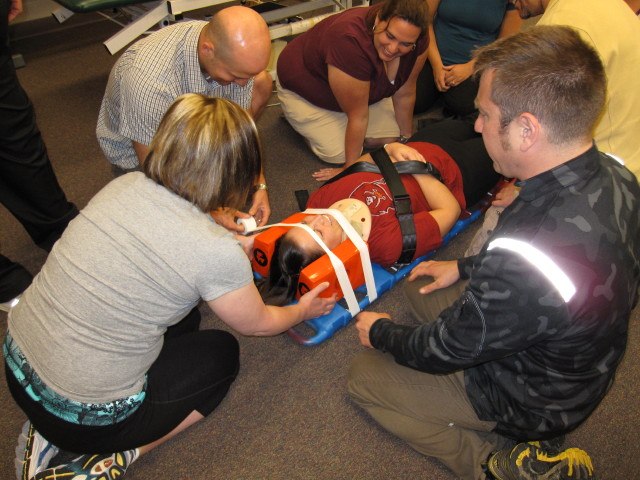 Emergency Medical Response Training Objectives
Discuss and demonstrate knowledge of emergency management of injuries and illnesses
related to sports.
Discuss and demonstrate taping, bracing, and proper equipment fitting
Discuss and demonstrate appropriate rehabilitation related to sports injuries as well as the use of pharmaceutical and ergogenic aids
Provide basic guidelines regarding nutrition and dietary guidelines related to sports
Discuss and apply knowledge of basic human physiology in athletic competition
Discuss and demonstrate the pre participation physical examination
Required Pre-Course Work
American Red Cross Emergency Medical Response Textbook American Red Cross Emergency Medical Response Workbook
DAY ONE
8:00-12:30 Morning Session
Course Introduction Epidemiology of Sports Injuries Overview of the EMS System Prevention of Disease Transmission Legal and Ethical Issues/ Scope of Care Initial Assessment Lower Quarter/Ankle Taping (Demo/Lab)
12:30-1:30 – Lunch
1:30- 5:30 Afternoon Session
Breathing Emergencies / Oxygen Administration Breathing Emergencies / Oxygen Administration Lab Cardiac Emergencies / Sudden Cardiac Death Cardiac Emergencies Lab & Testing
DAY TWO
08:00-12:30 Morning Session
Bleeding and Shock Bleeding and Shock Lab Specific Injuries / General Medical Conditions Facial and Throat Injuries Visceral / Chest / Abdominal Injuries UQ / Hand and Thumb Taping (Demo/Lab)
12:30-1:30 – Lunch
1:30-4:30 Afternoon Session
Musculoskeletal Injuries Fracture Management Lab Head Injuries, Concussion in Sports Spinal Injuries & Pre-Hospital Care of the Spine Injured
Athlete/Lab
DAY THREE
8:00-12:30 Morning Session
Childbirth Pediatrics Hazardous Materials Emergencies Multiple Casualty Incidents EMS support and Operations
12:30-1:30 – Lunch
1:30-5:00 Afternoon Session
Emergency Response Test (Written and Practical)
DAY FOUR
8:00-12:30 Morning Session
Environmental Conditions & Fluid Replacement Dermatologic Concerns in the Athlete Bracing and Padding Bracing, Taping, Padding Lab Pre-Season Screening Nutrition for the Athlete/Ergogenic Aids The Aging Athlete Female Athlete Concerns
12:30-1:30 – Lunch
1:30-5:00 Afternoon Session
Adolescent Athlete Knee Ligament Instability Throwing Injuries
Course Wrap-up/Evaluation/Certificates
Foundation / Competencies in Sports PT
Foundations / Competencies EMR PT CEU Course
Sports Physical Therapy
30 Hours, 3.0 CEU's Tuition: $545.00
Sorry, we have no classes currently scheduled. Check back again to book a spot in one of our awesome courses!