Rehab Across the Lifespan Sports Medicine Training Seminar
Orthopedic and sports medicine approach to the shoulder, hip, and knee
Course Description
Course Objectives
Course Outline
Upcoming Courses & Dates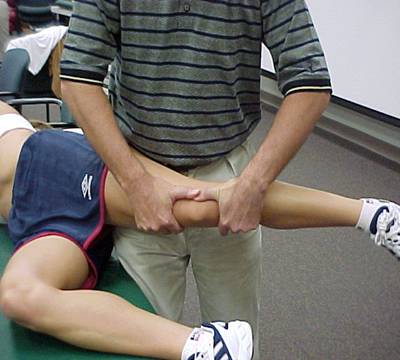 Rehab Across the Lifespan is a two-day, in-depth, evidenced-based continuing education seminar for physical therapist and clinicians regarding selected upper and lower quarter pathologies. This course will examine and present the best available evidence, as well as state of the art information regarding the evaluation and treatment of the shoulder, hip, and knee.
Advances in assessment and treatment techniques, emerging research evidence, and expanding methods to collect outcome data make it imperative that clinicians remain up to date on orthopedics and sports medicine training. Continuing education in orthopedic physical therapy helps clinician provide successful, cost-effective care to patients.
Expand Knowledge of Orthopedic Rehabilitation
The goal of this seminar is to provide clinicians with the most current information and tools available in orthopedic sports medicine in order to develop, implement, document, and defend the need for evidenced based rehabilitation programs.
This orthopedic rehab seminar provides lecture presentations, demonstrations, and focused laboratory sessions dedicated to treatment techniques of the upper and lower quarter pathologies. Participants will have an opportunity to expand and update their knowledge and leave with tools to develop appropriate rehabilitation programs that will enhance success in day-to-day practice in a wide variety of settings.
Sports Medicine CEU for All Levels
Whether participants are experienced clinicians or new graduates, will provide them with the Rehab Across the Lifespan orthopedic sports medicine seminar provides new information and techniques that can be applied immediately in a clinic.

Register Now
Orthopedic and Sports Medicine Course Breakdown
After completing this PT Con Ed course, the participant should be able to:
Describe the relevant clinical anatomy and biomechanics of the upper quarter, hip, and knee.
Relate upper quarter, hip and knee pathomechanics to injury mechanisms and subsequent design of comprehensive functional rehabilitation.
Perform special tests and synthesize examination findings for upper and lower quarter pathology.
Evaluate, examination findings using clinical reasoning skills to develop successful therapeutic intervention programs for common upper and lower quarter pathologies.
Describe and apply principles of healing as it relates to conservative and post-operative rehabilitation.
Develop effective and efficient rehabilitation programs for conservative and postoperative management based on best available evidence.
Describe common surgical procedures at the shoulder, elbow, hip, and knee.
Utilize postoperative protocols as a guide to rehabilitate a variety of surgical procedures for the shoulder, elbow, hip, and knee.
Describe a functional exercise progression and functional testing criteria in order to determine readiness for return to ADL's, work or sports.
Understand current clinical and scientific evidence to choose and utilize appropriate, valid, and reliable outcome evaluation measures.
Orthopedic CEU Course Outline
DAY ONE
7:30 – 8:00 Course Registration
8:00 – 12:00 Morning Session
Introduction
The Base of the UE Kinetic Chain: The Role of the Scapula in Treatment of the Shoulder Complex
Evidence-based Exercise Prescription: How to activate the scapular musculature and increase the endurance and strength of the rotator cuff (Lecture/demonstration/lab)
Rotator Cuff Pathology: From Impingement to Repair Evaluation of Impingement and Rotator Cuff Function (Lecture/demonstration/lab)
Non-operative options and post-operative rehab following rotator cuff surgery
12:00 – 1:00 LUNCH
1:00 – 5:30 Afternoon Session
Adhesive Capsulitis
Stiffness vs. Adhesive Capsulitis: Is it really frozen?
What is the best approach to restore motion?
Joint Mobilization/ Manual therapy options (Demonstration/Lab)
Shoulder Instability
Anatomy and pathomechanics of the glenohumeral joint related to instability
Classifying the instability: Unidirectional (TUBS) vs. Multidirectional (AMBRI)
Special tests for the identification of instability (Demonstration/lab)
Anterior Shoulder Instability: Diagnosis and clinical decision making
Non-operative treatment strategies for acute, 1st time dislocation
Review of the surgical procedures for anterior, posterior and multidirectional instability
Management of the postoperative stabilization procedure: Post-operative protocols
Superior Labrum Anterior to Posterior (SLAP) Lesions: Evaluation, special testing, and rehabilitation following surgical repair (Demonstration/Lab)
Elbow Wrist Hand
Managing major elbow, wrist, and hand pathologies in the sports and general orthopedic populations. (Lecture/demonstration/lab)
DAY TWO
8:00 – 12:00 Morning Session
Reactive Neuromuscular Training
Reactive Neuromuscular Training Integration of functional exercise to correct movement dysfunction (Demonstration / Lab)
Intra-articular Hip Pathology
Managing intra-articular hip pathology: Arthroscopic interventions & post-operative management considerations
Anterior Cruciate Ligament Injury
Mechanisms of Injury
Biomechanics of non-contact injuries
Natural history of ACL injury and reconstruction
Conservative management – who can cope? Why are women more susceptible to injury? Unique considerations for the female athlete.
Highlights of postoperative rehabilitation
ACL injury prevention programs: Evidence Based Program Design
Cardio vascular stimulation
12:00 – 1:00 LUNCH
1:00 – 5:30 Afternoon Session
Patello-femoral Pain Syndrome
Current perspective of pathomechanics: Tissue homeostasis and the Envelope of Function • Relevant PF anatomy and biomechanics
Evaluation of PFPS: Influence of abnormal lower extremity mechanics on the PF joint PF joint examination. Where should you look for dysfunction?
Program Design for Proximal Neuromuscular stability and strength training.
Bracing & exercise: Functional exercise training to achieve success
Meniscal Injuries
Rehabilitation after Meniscal Repair
The current state of Meniscal Transplantation
Articular Cartilage Disorders, Osteoarthritis and Total Knee Arthroplasty
Articular Cartilage Disorders: Definition, Surgical Options, and Postoperative Rehabilitation
Osteoarthritis
Conservative management and patient education
Total Knee Arthroplasty: "It's not just for Old People any more!"
Review of the surgical options and managing the complicated TKA
Total Shoulder Arthroplasty and Total Knee Arthroplasty
When all else fails: Managing Total Knee and Shoulder Arthroplasty
Shoulder: Traditional vs Reverse: Review of the surgical procedures
Knee: Several Different Types of Prosthesis: Review of the surgical procedures
Postoperative guidelines for TSA and TKA
Question & Answers / Course Wrap Up
Rehabilitation Across the Lifespan
An Orthopedic & Sports Medicine Approach to the Shoulder, Hip, and Knee
16 Hours, 1.6 CEU's Tuition: $485.00
Sorry, we have no classes currently scheduled. Check back again to book a spot in one of our awesome courses!