Slide 1

Slide 2

Slide 3

Early vs Delayed Passive Range of Motion Debate
I smiled the other day when I read the clinical commentary in the AJSM entitled Early Versus Delayed Passive Range of Motion after Rotator Cuff Repair (Kluczynski MA etal Vol 43, No. 8 2015 pages 2057-2063). I'm sure many of you SPTS members have seen and heard Dr George Davis PT and Dr Kevin Wilk PT 'battle it out' in a socratic debate discussing this very topic. George says delay and Kevin says early! Very interesting, entertaining, evidence based, and thought provoking.
I've treated patients that under surgeons orders, I'm to see them 4x's a week and 'don't let them get stiff' orders immediately after surgery. I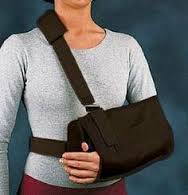 know I irritated their shoulder to no end. I've treated post-operative RCR patients, open mini procedure…you know, the ones that are supposed to get stiff, at 3-4 weeks post-op before they even started passive ROM and they had little trouble gaining ROM and much less discomfort. I know, surgeon skills play a role. But the delayed patient didn't get stiff. Both types of patient management programs resulted in good functional ROM and strength.
Of course the big worry is what happens to the repair with early motion. Many papers have addressed this issue….
So now a paper that does a systematic review and meta-analysis looking at studies between 2013 and 2014. Twenty-eight studies (1729 subjects) were included. Re-tear rates were compared for early ROM (within a week of surgery) and delayed (3-6 weeks). Two analyses were done. The first was comparing level 1 studies looking at early and delayed protocols. There was no statistical difference between the groups.
In the second analysis, the papers ranged from levels 1-4 and didn't directly compare early vs. late and were stratified for tear size and repair method. In tears equal to and less than 3 mm the risk of re-tear is lower in the early group for trans-osseous plus single-row anchors. For tears equal to or greater than 5 mm, the risk of re-tear was greater for the early double row anchor and for all repair methods combined. There were no statistically significant associations for tears measuring less than 1 cm, 1-3 cm, 3-5 cm, and greater than 3 cm.
Clear as mud!!