Slide 1

Slide 2

Slide 3

FMS Functional Movement Screen Online Course
Increase Sports Performance and Reduce Injury
History of the FMS
Difference between the FMS and SFMA
Get Certified Now
The Functional Movement Screen (FMS) is a tool that will improve objectivity and collaboration between the professions of physical therapy, strength and conditioning and athletic training. The FMS course is designed to help clinicians create an exercise plan to increase sports performance and help reduce the risk of injury in their patients.
HISTORY of FMS
This philosophy of the FMS began in 1995 by Gray Cook and Lee Burton. At that time, a literature review of the research identified no systematic tool to identify functional asymmetry or major limitation in functional movement patterns. Most of the tests at that time were geared to athletic performance or specific skill performance.
The Functional Movement Screen was originally created as a grading system to capture and analyze fundamental movements, motor control within movement patterns, and competence of basic movements uncomplicated by specific skills. By assessing these patterns, objective data regarding functional limitations and asymmetries are readily identified for statistical analysis of fundamental human movement patterns with respect to functional performance and injury prevention. Since that time, research has demonstrated that right-left asymmetries and major limitations can increase injury potential and decrease functional effectiveness.
Designed to Enhance Current Fundamentals
Currently, there is no tool to effectively track substitution and compensations; most tests are quantitative and not qualitative in nature. As a team, we felt that the fundamental human movement patterns were being left out of analysis. The development and refinement of Functional Movement Screen as it relates to current sports medicine and strength and conditioning practices was an attempt to fulfill a void.
The goal of the Functional Movement Screen is to enhance the process of current methodology currently being used by adding another perspective of human movement that could potentially help clarify problems as well as improve performance and resistance to injury. FMS is not meant to replace currently methodology. The FMS online course will assist in determining the greatest areas of movement deficiency, demonstrate limitations or asymmetries, and eventually correlate these with an outcome. Once you find the greatest asymmetry or deficiency, you can use measurements that are more precise if needed.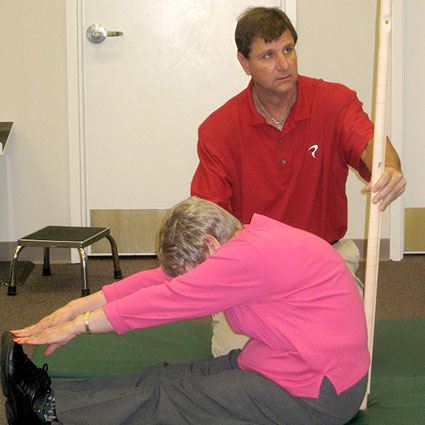 The Difference Between SFMA & FMS
Unlike the SFMA, the FMS does not have a formal breakout or built-in movement reduction for each pattern because it is not a diagnostic system. Its role is to impose minimum standards on movement patterns in active populations without pain. Attempting isolated diagnosis would create an extra step without offering greater corrective solutions, and could even offer fewer options in some cases. In the FMS, there is no need to identify anything other than a limited or asymmetrical pattern. The FMS is not intended for those displaying pain in basic movement patterns. The power and utility of the SFMA can create confusion among those who work with patients and also advise non-patient clients in training.
While some suggest the FMS and SFMA could be interchangeable, both should be used in the clinical setting, but they are not interchangeable: the line remains pain. Therefore, the key difference with the SFMA is the ability to separate pain with movement. It is possible to move poorly and not be in pain, and it is possible to be in pain and move well. Painful movement is covered in the SFMA. The FMS is for healthy, active people and for healthy and inactive people who want to increase physical activity.
Who is the FMS Course For?
The following professionals will benefit greatly from using the FMS.
Recreational and Outdoor Activity Instructors
Sports and Conditioning Coaches
Physical Educators
Health and Safety Instructors
Dance and Yoga Instructors
Pilates Instructors
Personal Trainers
Massage Therapists
Strength Coaches
Athletic Trainers
Physical Therapists
Chiropractic Physicians
Medical Physicians
Get Certified Now
Registration for the online FMS course is handled through the Functional Movement Systems Website.
Use the code NASMI when registering to receive a 15% discount.