Is Full Hyperextension Needed After Knee Surgery?
August 4, 2015
By: Tab Blackburn PT, ATC
When gaining full extension after ACL surgery, it was ingrained in us that the patient should get full 'hyperextension'…equal to the other side.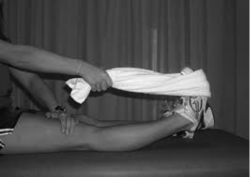 I always chaffed at that recommendation because I had as many years rehabbing extra-articular ACL reconstructions as intra-articular ACL's. Hyperextension Leg Stretch with extra-articular ACL's, zero degree extension appeared to be a more stable position. In fact, anything less than 5 degrees seemed to work. In follow-ups of these patients over the years, it appeared that those who needed more extension seemed to gain what they needed without the torture of hours of 'hyperextension' stretching.
The irony of the situation has come full circle when I heard a paper presented at the AOSSM in Orlando this summer. Dr. Rodney Benner with co-authors Dr. Don Shelbourne, and Tinker Gray MA presented a paper reviewing 625 surgical cases out of 2329 cases performed between 1998 and 2008 that met inclusion criteria of a primary ACL with patella tendon autograft, not bilaterally involved and no OA. The patients were divided up into those who had 6 degrees or more hyperextension before and after surgery and the second group with 3 degrees or less hyperextension. Patients were reviewed at 5 years from surgery with all the usual tests and measurements.
Hyperextension Study Results
Follow-up in Group A was 278 subjects and B was 275. KT1000 measurements were 2.0 and 2.1 respectively. Group A had 22 (6.9%) re-tears and 30 (9.8%) in Group B. There was no statistical difference between IKDC or CKRS scores.
So it appears that gaining full hyperextension is not a requirement for a good outcome after ACL autograph patella tendon reconstruction. The activity score was 8.4 for both groups. 85-86% of both groups participated in jumping cutting sports before surgery and 87-90% after surgery.
Dr Don Shelbourne was an ardent believer and teacher and founder of 'full-hyperextension' 20 years ago! Thanks for the follow-up Dr Shelbourne!